Statement From The Colonel
Troopers and fellow staff,

This past month saw the department undergo further changes to improve relations with our neighbouring agencies, Bone County Sheriff's Office and the Los Santos County Fire Department. These relations were boosted by the joint co-operation in a tri-agency effort against the rising violent crime in the town of Blueberry, Red County. I would like to thank these agencies for their efforts and for showing such professionalism when working with our staff. I hope you all had a wonderful Christmas and an even more enjoyable New Year! To those working during the celebrations, I hope your shift wasn't too taxing.

As we go into January you may start to notice some changes to our bureaus. In particular, Training Operations. I am delighted to announce that Captain Nathan Kenway will be taking up the Directorship position of this bureau which will specialize in the recruitment and training of our new police academy entrants and any other additional training or re-training that our troopers may require. The introduction of this bureau should allow for more focus to be put on recruitment and training, giving the Administrative Services Bureau Director the time to focus on the remaining ASB divisions.

I aim to complete the last volume of the revised department handbook this month. As one of the more lengthier volumes and arguably the most important, it will take the majority of my focus.

I would also like to welcome Lieutenant Milagro back into the ranks of High Command staff. With work-loads in the department increasing, it only made sense to offer Edward the opportunity to take up the position given his past experience in the department. Expect further changes to the commanding officer rank bracket very soon!

Finally, if you have completed one or more valid duty reports for the month of December then you will be eligible for an overtime bonus. An official list will be e-mailed out later this evening. You can redeem your bonus from now until 10th January 2021. Please see a member of High Command for your bonus.

Kind regards,

Colonel Bob Holt
Head of Department Operations
Statistics
This information is an accurate reading from the 29th of December 2020. 23:30 PM GMT+0.
DEPARTMENTAL


10

Department Employments


11

Honorable Discharges


5

Dishonorable Discharges


332

Total Duty Reports



38

Reported Incidents or Situations


82

Reported Arrests


13

Reported Contraband Seizures


19

M4 Deployments



3

Roll Calls Held


2

Active Ride Alongs



5

Formal Warnings


6

Suspensions
STAFF STATISTICS


2

Correctional Officers


1

Traffic Support Operatives



5

Probationary Troopers


1

Auxiliary Trooper


6

State Troopers


7

Trooper First Class'


8

Senior Troopers


4

Master Troopers


4

Corporals



7

Sergeant First Class'


1

Sergeant Second Class'


2

Staff Sergeants


0

Master Sergeant


1

Lieutenant First Class'


2

Lieutenant Second Class'


0

Captain First Class'


2

Captain Second Class'


1

Commander



1

Major


1

Lieutenant Colonel


1

Colonel
DIVISIONAL STATISTICS
SPECIAL WEAPONS AND TACTICS


28

Deployments


4

Armed Pursuits


2

Hostage Situations


8

Active Shooters


7

Barricaded Suspects


2

Miscellaneous

INTERNAL AFFAIRS


2

Unsuccessful Cases


2

Successful Cases


2

Active Cases

EMERGENCY SERVICES


46

Patrols Conducted


12

Patient Care Reports

CORRECTIONAL SERVICES


1

Correctional Officers Hired


1

Correctional Officers Discharged


1

Active Parole Cases
TRAFFIC ENFORCEMENT


2

Reported Citations Issued
The most committed violation is Violating a Traffic Signal
Road laws are violated the most in Montgomery and Route 48



2

Reported License Revokations/Suspensions


3

Reported Incidents


0

Reported Operations

INVESTIGATIONS DIVISION


743

grams of Marijuana seized


46

grams of Cocaine seized


41

grams of Peyote seized


11

grams of Heroin seized

WEAPON LICENSING


6

Licenses Issued


2

Licenses Renewed

AIR SUPPORT


20

Situations Assisted
Commendations and Promotions
Earlier this month I needed an FTO that fit a specific time zone for a probationary trooper, upon doing a bit of digging the only person I found was Hailey. She stepped up to the plate massively in having a probationary and she's done so happily.

Hailey has stepped in when we needed her most and has also shown great promise and efforts towards ID.

Commended by Sergeant Mark Graham, Director of Field Training and Sergeant Madison Longhorn.
DEPARTMENT BULK PROMOTIONS
If you feel you have been overlooked, please contact the High Command Team.


Trooper First Class ->
Senior Trooper
Senior Trooper Hailey Monaghan
Senior Trooper Jake Winford
Senior Trooper Jayson Parker


Senior Trooper ->
Master Trooper
Master Trooper John Sawyer
Master Trooper Lamar Riggs


Master Trooper ->
Corporal
Corporal Jim Sheffield


Sergeant First Class ->
Sergeant Second Class
Sergeant 2nd Class Alexandra Hall
Sergeant 2nd Class Madison Longhorn


Lieutenant Second Class ->
Major
((Major James Knight))
Divisional Updates
SAN ANDREAS STATE POLICE
TRAINING OPERATIONS BUREAU
Director Nathan Kenway
NEWSLETTER ANNOUNCEMENT
The new year is soon upon us, and time has flown within the Training Operations Bureau. Since taking Directorship of the Bureau following my reassignment from the Administrative Services Bureau, we've seen the intake of a new batch of Probationary Troopers join the ranks. I am enjoying watching them develop into their roles and wish them the best of luck as they continue to progress through their Probationary phases. In addition to this, Sergeant Graham was welcomed back to the role of Director of Field Training, a role which he is settling into well and I thank him for his continued work in this festive period.

Changes to the way we recruit staff into the Department have been made and I thank all of those who have been involved in this transition. We have developed a new process for recruitment which is overseen my our competent Supervisory Team. This adjustment allows for much prompter response in application handling and I am keen to see how this initiative develops with future batches.

The mainstay of my work within December has been within the Academic Training Unit, a new Academy structure is in the works for future batches, with a key shift in the way things are done being with the bulk of written/theoretical training has now been collated into an online resource which is much clearer and detailed. This will be available to Academy Students as soon as they have been accepted into an Academy Batch. This gives them the opportunity to study/pre-read the theoretical aspects of the way we work here in the San Andreas State Police, further preparing them updated Police Academy. This resource will be made available as a PDF as well as a narrated lecture format, thus being inclusive in the way different individuals learn.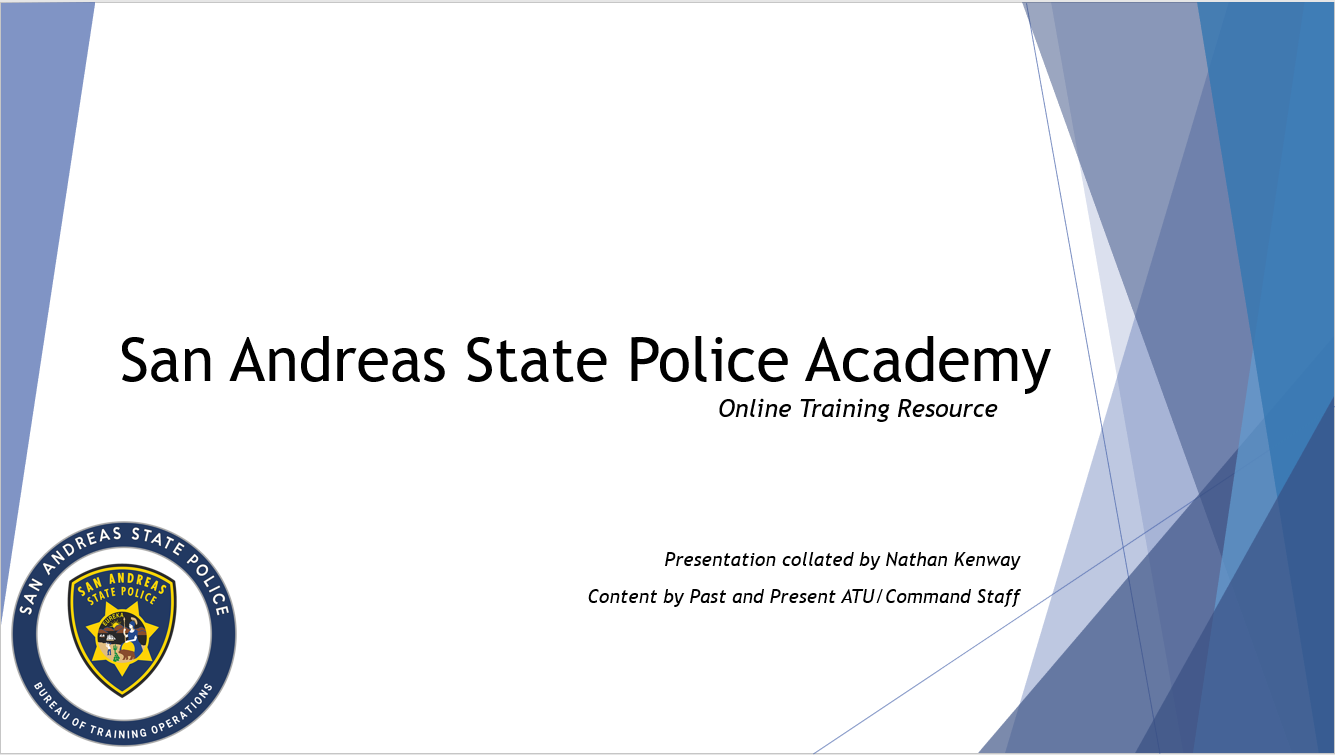 By removing the bulk of theoretical training from the actual Police Academy, it gives rise to the opportunity for more practical training and demonstrations to take place with this extra time. I'm keen to see quality training being delivered to our prospective students, and I hope that by removing the historically lengthy and time-consuming theory lectures from the session, it will result in more engaged students and they will take more away from the sessions. I am working closely with the ATU leadership team and I am excited to see these changes take shape.

My task going into the new year will be to overhaul the current examination system with fresh and updated examinations which will aim to bring out the best in our Students and benefit the wider department as a result. Watch this space.

I hope you all had a Merry Christmas and I wish you all a very happy New Year.

Kind Regards,



Captain II Nathan Kenway
Director of Training Operations Bureau.
SAN ANDREAS STATE POLICE
SAN ANDREAS STATE POLICE
FIELD SERVICES BUREAU
Director Nathan Stone
NEWSLETTER ANNOUNCEMENT
Greetings,

I want to keep this brief as December has been a slow month not only for Field Services but the department as a whole. December has been slow and because of that Field Services divisions have not been utilized as much. That being said I am very impressed by the overall state of the department and with the quality of our general patrol units. As we move into 2021, I know operations will ramp up and with that divisions in Field Services will see an increase. So, I want to encourage all Troopers especially our current batch of probies to look for recruitment programs for divisions in January. Thanks to all the division leaders that have served well during this past month.

Sincerely,
Captain II Nathan Stone
SAN ANDREAS STATE POLICE
SAN ANDREAS STATE POLICE
ADMINISTRATIVE SERVICES BUREAU
Director Chance Morrison
NEWSLETTER ANNOUNCEMENT
Troopers,
2020 has been an eventful year to say the least. The Administrative Services Bureau has undergone several changes throughout the past few months, and things are finally starting to calm down. Any division related to recruitment or training have been merged into the newly announced Training Operations Bureau, leaving just the Weapon Licensing Division, Legal Affairs Division, and the Public Affairs and Information Division. With that said, I'll be working closely with the divisions within my bureau to meet their needs and ensure things are working smoothly.

Finally, we saw the departure of Lieutenant Drake Richie, who was the Deputy Director of the Administrative Services Bureau. With him gone and Captain Kenway taking lead of the Training Operations Bureau, I stepped up and took over the role as Director of the Administrative Services Bureau. I plan to carry Richie's mission in ensuring all divisions have a clear line of communication when the need arises to keep things moving and reduce delays.
Lieutenant First Class Chance Morrison
Director of the Administrative Services Bureau
SAN ANDREAS STATE POLICE
WEAPON LICENSING DIVISION
MONTHLY DIVISIONAL UPDATE
ADMINISTRATIVE SERVICES BUREAU
SAN ANDREAS STATE POLICE
INFORMATION

Greetings,

This month, the former Director of the Weapon Licensing Division, Julian Montes, sadly stepped down from his position as Director. I will be taking his spot as Director, though we all respect Montes for all the work he placed into the Division. By taking over WLD, I plan to expand the division a bit more. Firstly, all weapon licensing officers will now be granted free weapon licenses for their hard work in the division. Also, don't forget about the commission all licensing officers get per application. If you are interested in anything listed above, don't hesitate to post an application!

DIVISIONAL STATISTICS

Weapons Licensing Division - Director
San Andreas State Police

SAN ANDREAS STATE POLICE
TRAFFIC ENFORCEMENT DIVISION
REPORT
FIELD SERVICES BUREAU
SAN ANDREAS STATE POLICE

The Traffic Enforcement Division has had a slow month to say the least. With the winter stand down for all troopers, we at TED Command have backed off, and not enforced the criteria to be active for the month. In January this will all change with a mandatory two operations per month minimum, as well as more safety standards to be upheld. January will see a new training handbook released as well as new operational standards within TED. I hope you all had a lovely holiday, and can't wait to see you all back at it 100% in the new year!



Lieutenant Matthew Hudson
Traffic Enforcement Division Commander
SAN ANDREAS STATE POLICE
We have definitely seen a small decrease in ESU Patrols throughout the Winter Stand-down; this is a similar situation that the entire department is currently experiencing. We have continued to exceed in our relations with the Community and Interdivisionally throughout December, we will continue striving to uphold these relations throughout January.

I have assessed all the Operatives within the Emergency Services Unit and rank adjustments to those continuously doing well within the division will be considered throughout the months of January and February.

I'd like to wish everyone a belated Merry Christmas and Happy New Years from the Emergency Services Units', Supervisory and Command Teams. Keep safe and we'll be back to normal operations in the New Year.

Our divisional recruitment and reinstatement processes continue to be open for employees of the San Andreas State Police who wish to extend their medical knowledge. If you don't feel up-to joining the Emergency Services Unit, feel free to apply for the departmentally issued First Aid Course in Staff Training Programs.

Divisional Statistics (January):
ESU Patrols Logged: 46
ESU Patient Care Reports: 12
ESU Recruitment Statistics: 1
Operative Of the Month:
None Assigned for January
Commendation Of the Month:


None Assigned for January

ESU Command Team has decided that the Commendation Of the Month will not be filled this month; we have found no one interdivisionally who has exceeded or gone above and beyond for the division this month. We hope that we can increase divisional activity and award someone Commendation Of the Month in the next newsletter.


Thank you,




Commander of Operations - Alexandra J. Hall


To: Nathan Stone

Air Support Division for the upcoming year will be introducing a new rank within the Air Support Division, named 'Marshal'. The position will specifically provide those in interest to assist Air Support and in general, the Department to develop their skills regarding updates mid-pursuit and other activities at hand.

ASU has in total been deployed twenty (20) times this month. Approximate fuel waste has been calculated to be by a total of $4,700 as there were nineteen (4) stops of refuel procedures. No incidents have been noted. Total pursuit responses would be seventeen (17) while three (3) were monitoring and overwatch for numerous situations. No felony stops were made for this specific month. UH-60L has not been deployed for this month, not counting regular route tests for the same.

Best regards,


James Brooks
Director
SPECIAL WEAPONS AND TACTICS
NEWSLETTER ANNOUNCEMENTS
Commander Chance Morrison
FIELD SERVICES BUREAU
SAN ANDREAS STATE POLICE
| INFORMATION
The month of December has been more eventful than November, that being because of the further rise in gang conflict in Blueberry and Palomino. SWAT played its hand in the operation in Blueberry following the multiple mass shooting that took place between warring gangs, often involving the police as well. As mentioned in the last newsletter, we have worked on getting our new HQ up and running and earlier in the month the construction concluded. All of the division's vehicles have been moved to the new HQ and will the central hub for all operatives. It has taken the place of ID's old HQ on the eastern entrance of Dillimore.

The activity of the division has gone down in recent months so to combat this the SWAT Command Team has decided to open all forms of recruitment, including reinstatements and interest forms. If anyone's interested in applying for the division you can submit your letter of interest here.
Statistics for December 2020:
SWAT has been paged 28 times within the month of December.
SWAT has responded to 0 false calls within the month of December.
SWAT has responded to 4 armed pursuits within the month of December.
SWAT has responded to 2 hostage situations within the month of December.
SWAT has responded to 0 heavy vehicle pursuits within the month of December.
SWAT has responded to 8 active shooter situations within the month of December.
SWAT has responded to 7 barricaded suspect calls within the month of December.
SWAT has responded to 2 miscellaneous deployments within the month of December.
SWAT has filed approximately 16 total deployment logs for the month of December.
Out of all deployments this month, SWAT has been deployed to Montgomery the most.


For the month of December, the SWAT Command Team has chosen to recognize retired Lieutenant Drake Richie, instead of awarding an operative of the month. We recognize Lieutenant Drake Richie for all the time he put in to help train and educate our team. His dedication to this division has excelled our expectations, and we would like to thank him for the countless lives he has while under pressure. Thank you, Lieutenant, and happy retirement!

We continue to thank our team for the countless hours and training put in during the holidays.

Regards,

Sergeant First Class Jordan Caffrey
Special Weapons and Tactics - Tactical Lieutenant
SAN ANDREAS STATE POLICE
_
Dear fellow troopers,

The Investigations Division has been officially in full motion since early this month after being held back with the renovation of the State Police Detective School and overhaul of other internal issues. There has been quite the stir over the last few months due to resignations and renovations, holding us back from maximum productivity. But, no more as we see the dawn of a new age with our repackaged division. Here are some of the more important announcements for this month:


_
Detective Amy Seong appointed Unit Commander of the Gang and Narcotics Unit
Transferred from the NYPD's Organized Crime Control Bureau, Detective Seong has a keen eye for community relations and working out the structures of occupied areas. She has already shown promise with her field leadership and office professionalism. We hope to see the best of her throughout her career as the many of us look up to her in the unit.


_
SENIOR TROOPER AMY SEONG
Detective School Status and Graduates
With the reopening of the State Police Detective School, we have received an array of promising applications, though not everyone made the cut. Only the best of those accepted are enrolled to the Detective in Training Program. After conducting multiple ride-alongs for evaluation and deemed fit by the ID Command Board are they permitted to be promoted to the probationary stage. All members of this division would like to personally congratulate Narcotics Officer Hailey Monaghan and Intelligence Officer Jake Winford into their induction to the probationary phase. We wish you the best of luck!


_
TROOPER FIRST CLASS HAILEY MONAGHAN
TROOPER FIRST CLASS JAKE WINFORD
Joint Investigation with Arson Unit on Northern Blueberry Gang
Following an arson in that has ties to a neo-Nazi group in northern Blueberry, the 204 Arson Unit from the Los Santos County Fire Department has approached our Gang and Narcotics Unit for assistance. They will be supporting us on some scenes in hopes of concluding their investigation. Please show them professional courtesy when they're on the field with us, they're on the same team.



_
_
IMPORTANT NOTE
Trooper Gang Interactions

It has been brought to our attention that regular troopers that are not members of the Gang and Narcotics Unit, let alone the Investigations Division; are meddling into neighbourhood affairs relating to affiliated gang members. We cannot stress enough how much that interrupts us from doing our job. Community relations with at-risk youth from gang infested areas is the priority of our division. Unassigned troopers should stray from doing so unless an emergency is called upon by dispatch. Upon so, leave the detectives to take charge of the scene if it involves drugs, guns and violent crimes. Many of those residents are young kids, and for us to make good face with them only for you to come and ruin that relationship is insulting and disrespectful.

Troopers that are conducting Gang Officer duties without being in the unit will be dealt with. If you happen to spot someone doing so, please refer to Detective Amy Seong or Director Andrew Blair. Please respect the boundaries and allow us to do what we have to.


We wish you happy holidays and a happy new year to your family and friends.


Signed,

Corporal Andrew D. Blair
Director of the Investigations Division
Unit Commander of the Special Investigations Unit
SAN ANDREAS STATE POLICE
ACADEMIC TRAINING
Director Madison Longhorn
NEWSLETTER ANNOUNCEMENT
Batch #008 was a very promising batch for December. At first we in the ATU were worried about our new structure failing, however it proved to be very successful and provided the students with a good way of studying and interacting within the academy. We're working together with Captain Kenway to provide an even BETTER Academy format for the students and it is looking absolutely amazing as it is currently, we can't wait to see what the future brings for batch #009.

This academy came in with a total of 9 recruits, at the end of the academy, only 6 of them graduated and are now Probationary Troopers.

Sgt M Longhorn
Director of Academic Training
SAN ANDREAS STATE POLICE
SAN ANDREAS STATE POLICE
FIELD TRAINING
Director Mark Graham
NEWSLETTER ANNOUNCEMENT
December has been quite a hectic month for the Field Training Unit. With the unexpected departure of Lieutenant Drake Richie, I've been put at the helm of the unit on a more permanent basis. I look foward to helping all members of our staff with their learning and development needs.

At the beginning of this batch we started with 6 Probationary Troopers, however at the progression point to stage 2 of the program we'd dropped down to 5. The Probationary Troopers currently engaged in the program are Aaron Easter, Timothy Hoffman, Jessica Gray, Brandon McGregor and Joshua Bugg.

To those Probationary Troopers that didn't progress to stage 2, I personally wish you the best of luck in your future endeavours and wish to remind you that you should never give up on your aspirations and dreams

Finally, I hope you all had a wonderful Christmas, and I wish you all a happy new year.




Sgt M Graham
Director of Field Training
SAN ANDREAS STATE POLICE
Awards & Ribbons
Sergeant of The Month - Sergeant Madison Longhorn
Sergeant Madison Longhorn is January's Sergeant of The Month.

Command Staff nominated Sergeant Longhorn as this months Sergeant of the Month for their continued devotion and support to the department in both a field officer and supervisor position.

Please see a member of the High Command Executive for your department award package of $50,000 plus take home vehicle for the remainder of the month.
Trooper of The Month - Senior Trooper John Sawyer
Senior Trooper John Sawyer is January's Trooper of The Month.

Supervisory staff nominated Trooper Sawyer for being consistently active in the field. On-top of that, since being hired into Internal Affairs he has done A LOT of work and good work that has kept IA afloat. ((This has been shown through the IA character story topic on the forum that has drawn praise from community members and FM alike.)) He has also stepped up to the plate and taken on WLD.

Please see a member of the Command Executive for your department award package of $50,000 plus take home vehicle for the remainder of the month.
Closing Words
Dear Troopers,

Throughout the year, we've grown as both individuals and as a department. I've enjoyed watching all of you grow and hope to continue doing so. 2020 held a challenging series of events, but we've endured it, and will come back stronger as one unified group. I hope everyone took the time off to spend with their families and loved ones, and for those that clocked in during auxiliary mode, I commend you. 2021 will be the best year this department has ever seen and that's all because each and every one of you give this your best. Here's to 2021!

Cheers,

Lieutenant Colonel Grayson Shields